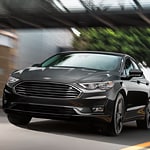 When you drive a Ford Fusion sedan from our new inventory in Brenham, you'll notice its performance aspects, and we're happy to share those with you now.
Ford supplies its Duratec engine to the standard Fusion S. This power plant displaces 2.5 liters, and it gives the sedan hop while also delivering up to 31 miles per gallon of gasoline. Other available gas engines in the Fusion line carry Ford's trusted EcoBoost brand. These machines combine four cylinders with a turbine to efficiently maximize the output provided by internal combustion. You can choose from two EcoBoost engines, and the largest also gives your Fusion shift paddles on its steering wheel.
Those paddles will let you manage your Ford Fusion's shift points, which will add to your driving experience. As you steer, you'll benefit from Ford's electric power-assist steering technology. This modern system uses sensors and programming to supply the optimal amount of steering power to the given driving situation.