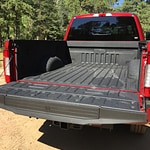 The Ford Super Duty remains a leader in many categories, with class-leading capability features getting more impressive each year. The current fleet continues this Ford tradition, boasting standout capability features that have our entire Appel Ford Inc. team buzzing.
Monster Tires
It used to be that you only ever saw monster tires on souped-up monster pickups meant for muscle competition and entertainment. The Ford Super Duty trucks officially end this custom. Thanks to dynamic off-road packages, you can outfit the Ford Super Duty with big, durable tires measuring up to 35 inches. Until now, they are the largest tires ever to grace a pickup. They offer maximum traction, stability and enhanced safety on even the toughest terrain. They also look extremely alpha.
Ford High Water Like a Pro
Big tires, extended vent axle tubes and a limited-slip front differential allow the Ford Super Duty to sail over water up to 33 inches deep. The added perk of a selectable Rock Crawl drive mode gives you even more power, control and vital traction in off-road driving conditions.