Equipping Your Ford with Genuine Parts and Accessories in Brenham, TX, is Easy - Order Yours at Appel Ford Inc.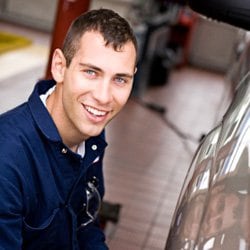 Your vehicle runs optimally when the parts are working correctly. So, while routine servicing at our Service Center is an essential part of the upkeep to your Ford, so is outfitting your Ford SUV, truck, or car with quality parts. When you want your vehicle to last and keep operating with a great performance, genuine parts and accessories can help! At Appel Ford Inc., you can order OEM Ford parts near Sealy, TX, and find the genuine accessories you want to furnish your Ford with, too.
When you turn to our Parts Center at Appel Ford Inc., you can expect to find the genuine Ford parts near Navasota, TX, you're in need of for your model. Whether something is worn and needs to get replaced, or, you want to add a specific touch to your Ford with an accessory, order it here today! Our stock has the components you're looking for, and by filling out and submitting the parts request, you can order them online simply.
Whether you have a new or used Ford, we can find your vehicle parts and accessories near Bellville, TX. You can be looking for brake or engine parts, or parts for your vehicle's exhaust. Maybe you want to add accessories like floor mats, cargo organizers, and more. You can shop confidently for your Ford at our Parts Center serving the Hempstead, TX, area. We will find the parts quickly, and you can get your vehicle working or looking ideally shortly.
Not everyone is a do-it-yourself type, and the technicians enjoy getting your Ford to optimal shape. Make an appointment, and a service professional can get the ordered parts installed for you. It isn't all about the service and parts for your Ford at Appel Ford Inc.; we offer an array of components from new Ford cars to pre-owned models and financing. To see the Parts Center or another one of our departments, find your directions today!